Service Labels
---
Five options to choose from: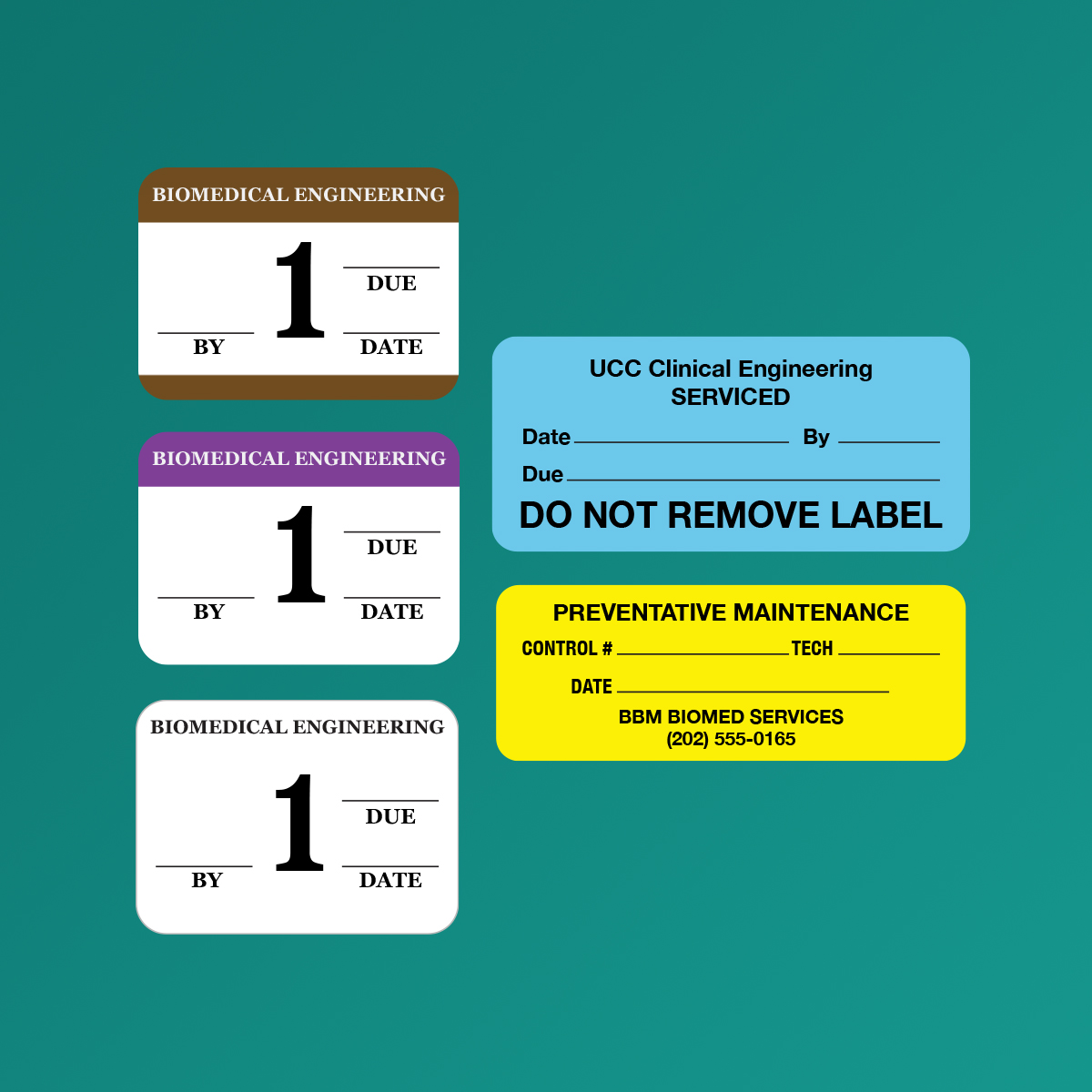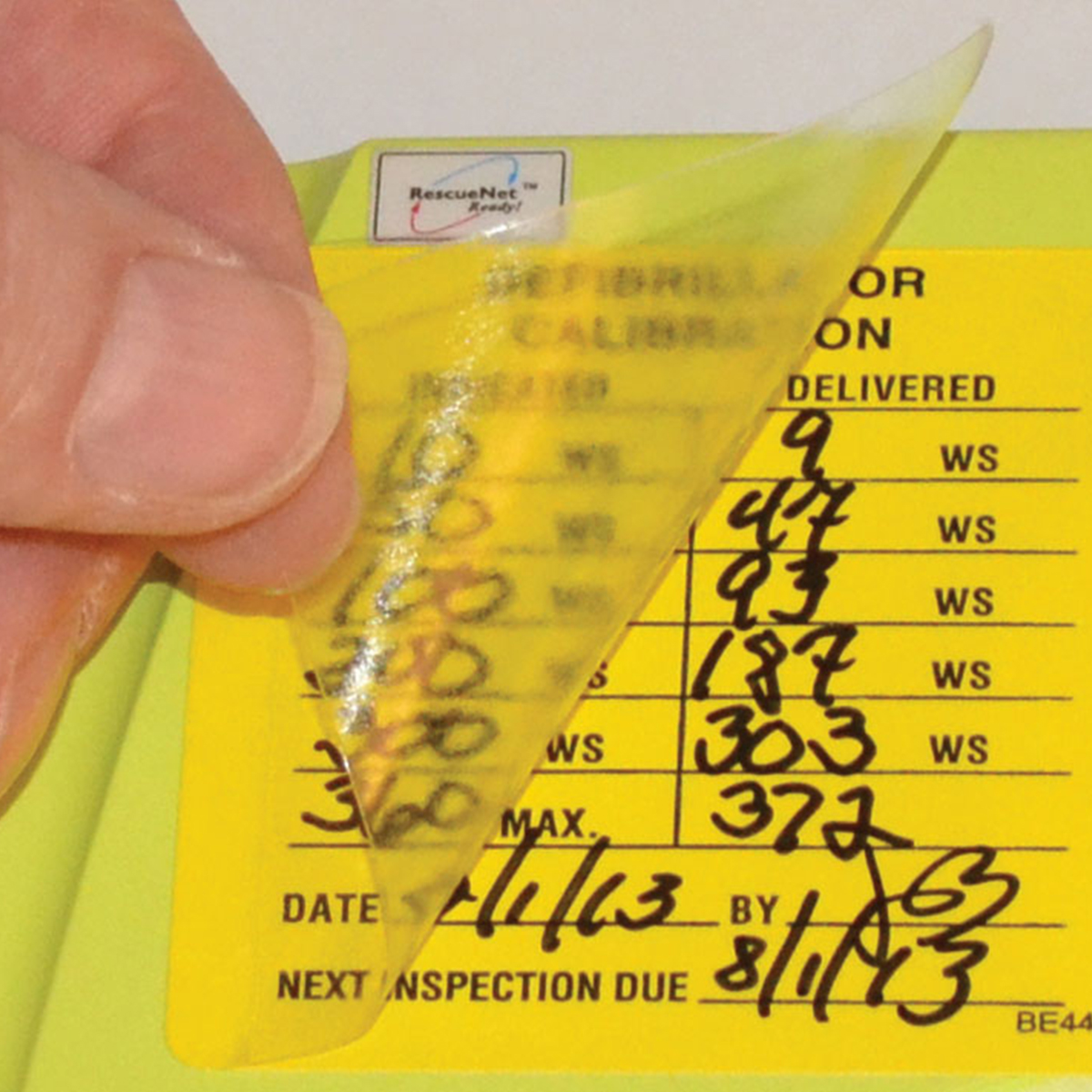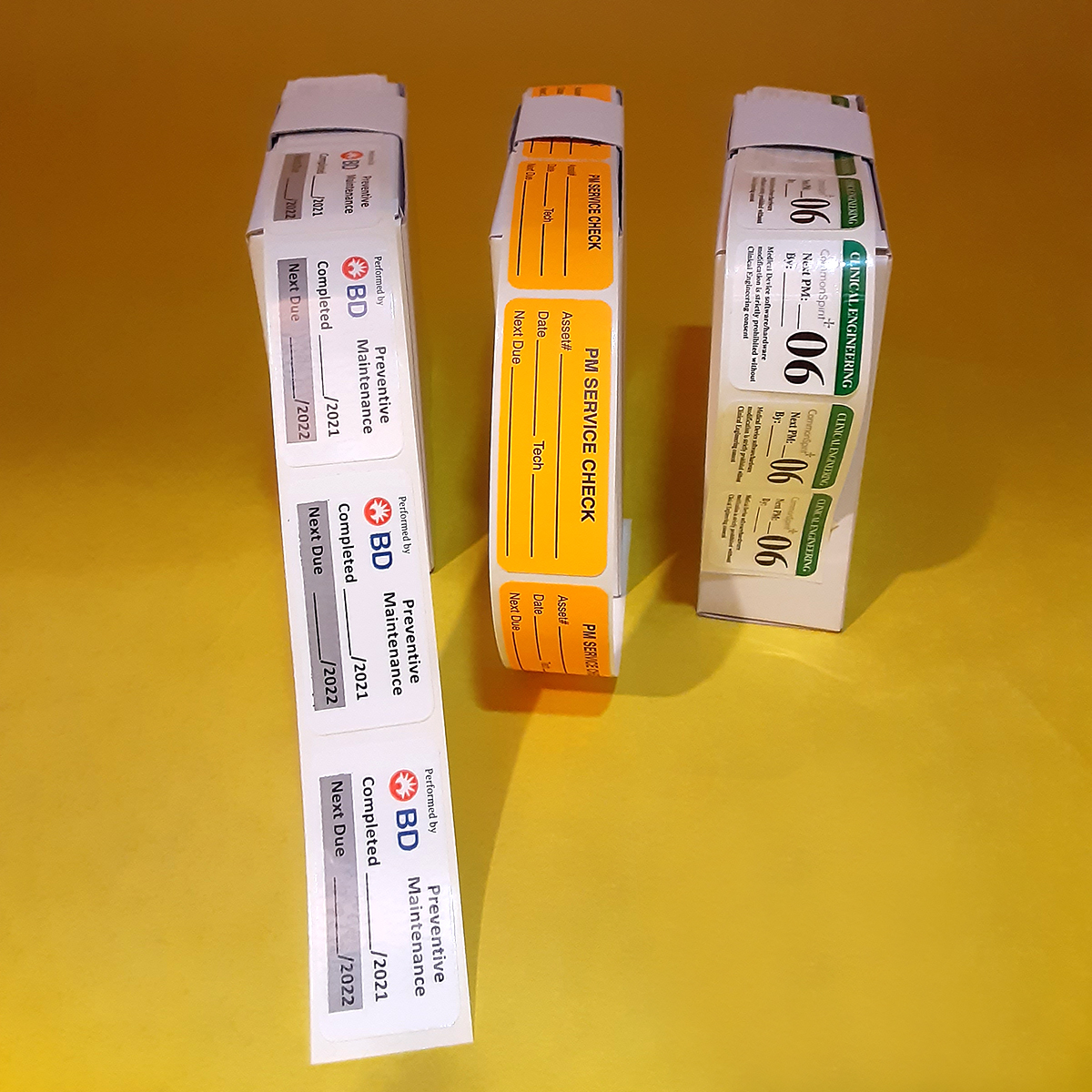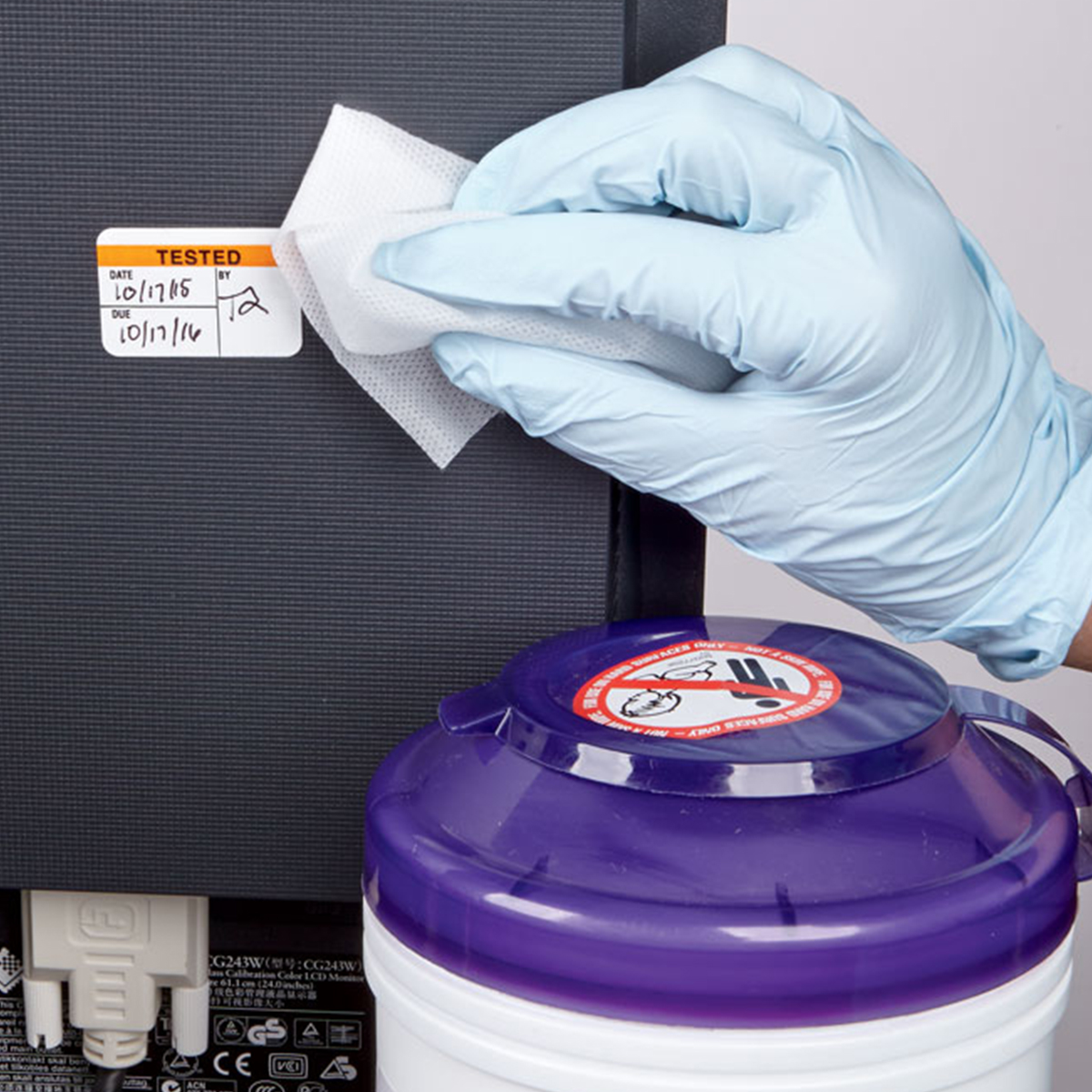 Material

Matte Litho Paper
Is a bright white, nonglossy paper that can be written on and is popular for a variety of uses.

Economical EDP
Paper is a good choice for general-purpose communication labels.

Semigloss Paper
Is coated to provide a slight sheen.

Fuorescent Paper
Creates brightly colored labels that stand out better than white.

Flexible Paper
Allows label to wrap on tightly curved surfaces without popping off.

Brown Kraft Paper
Material has an earthy, textured material that prints well and provides an organic appearance.

Polypropylene
Is tear- and water-resistent, providing more durability and longevity than a paper label. For indoor use.

Silver Polyester
Is ultra-durable and provides smooth surface for printing. Able to withstand temperatures up to 302F. A good choice for labeling equipment.

Vinyl
Is flexible and waterproof. A good choice for outdoor labels.

High Gloss Foil
Materials are paper laminated with a shiny metallic finish.
Adhesive

Permanent Adhesive
Will adhere firmly and cannot be romoved without tearing paper substrates or paper label.

Removable Adhesive
Adheres firmly yet can be removed cleanly without tearing the label or tearing paper substrates beneath it.
Coating

Gloss or Matte Varnishes
Inks added to top of label to create the finish desired for your particular label. and also add some scuff resistance.

Writable Varnishes
Inks added to top of label to make it more receptive to handwriting with pens and markers without smearing.

Thermal Transfer Topcoats
An economical means to add thermal transfer printing to a label that does not require moisture- or scuff resistance. Choose matte or gloss finish.
Laminate

Gloss or Matte Laminates
A thin film laid on top of a material to add resistance to moisture and scuffing.

Self-Lamination
Option attaches a clear film strip of lamination to label which allows you to write on the label and then apply the strip over the top when you are done to seal it. This is a good option when labels contain written information that will be exposed to cleansers or you want to prevent alterations.

Matte Thermal Laminate
A thin film laid on top of material to allow for thermal transfer printing with a ribbon. It also provides added resistance to moisture and scuffing.
FAQ

What type of printing technology will you use to produce my label?
UAL has an extensive manufacturing platform utilizing a variety of print technologies including:
•Flexo
•Digital
•Screen
•Offset
This allows us to choose the lowest cost technology that best fits your application.

What is flexo printing?
With more than 65% of all pressure sensitive labels printed using it, flexo is the most popular print technology. In the past, flexo printing was considered a low quality printing process, but it now rivals offset printing as a higher quality print technology. Flexo is one of the primary printing technologies that UAL uses.

What is digital printing?
Digital printing is a computer-driven system that doesn't require any film or plates. Digital files such as PDF or desktop publishing files can be sent directly to the digital printing press to print a label. Most digital printing presses use toner-based technology which rivals the print quality of offset presses. Digital printing provides excellent color consistency and reproduction.

What is screen printing?
Screen printing is a technology that presses or pumps ink through a screen and onto the product to produce the image. Screen printed labels are durable and ideal when you need precise detail and sharp colors.

What is offset printing?
Offset printing uses a process that transfers ink from a plate to a rubber blanket which then gets applied to the label material. Offset printing is versatile and able to produce a high quality image on a variety of materials.

What are the common materials used to produce a custom label?
Papers
Paper is the most common type of facestock. It is a cost effective alternative, but because it is made from wood fibers, moisture and temperature variations can impact its effectiveness making it best suited for indoor usage or a controlled environment.

Foils
Foils give your label a 'metallized' look and provide a moisture barrier between the label and the substrate it is applied to.

Polypropylene
Polypropylene is a material that applies easily to rigid and semi-rigid substrates. It is resistant to moisture, mild chemicals and tearing. When you need a durable facestock, polypropylene is a cost effective option.

Polyester
Polyester materials are strong, tear resistant and able to withstand exposure to oils, solvents, and a number of chemicals. A polyester material withstands high temperatures and works effectively in both indoor and outdoor applications.

What type of adhesives do you use?
Similar to materials, the adhesives we use depend upon your application.

Permanent
Because they work for most label applications and are budget friendly, the majority of labels use a permanent adhesive. This adhesive bonds strongly to the substrate it is applied to making it difficult to remove without damaging the label or the container it is applied to.

Removable
As the name suggests, removable adhesives are ideal for marking an item temporarily. Although labels with a removable adhesive can be removed without damaging the item, leaving them on a substrate for an extended period can make it difficult to remove and may damage the label or the surface it is applied to.

Repositionable
A repositionable adhesive allows you to remove a label and reapply or reposition it. This is a cost effective alternative vs. removing and replacing a label. But, a repositionable adhesive can eventually become permanent if you leave it on the substrate for an extended period of time. *This adhesive isn't available online, but if you need it for your application, please call customer service for pricing.

Other factors to consider when choosing an adhesive:
When adhesives are applied to a unique surface, it can sometimes cause a permanent or removable adhesive to react differently than expected. In these situations it is essential to perform tests to ensure the adhesive works properly. UAL can help you facilitate these tests to ensure you make the right selection. Contact Customer Service for more information.

Coatings And Laminates
Coatings and laminates serve multiple purposes. They can both enhance the image on your label while protecting it from moisture, chemicals and other potentially destructive elements. In addition, labels produced using digital presses require a coating to ensure the integrity of the image.

Material Finish
A material finish such as a laminate or varnish can offer a layer of protection and help create interesting visual effects. There are a number of options you can choose from.

Matte
A matte coating gives your label a subtle flat finish. It allows you to print or handwrite additional information on the label and is a good option when you need to add a barcode or a QR code. Plus, adding a matte writable varnish to a glossy material allows it to better accept handwriting with ink and markers.

Gloss
A gloss coating makes your label look smooth, shiny and polished. It also creates a protective barrier providing some protection from elements such as moisture.

What type of inks do you use?
We use standard PMS inks in flexo, screen and offset manufacturing applications. But, keep in mind when reviewing your proof online, it is rendered in the RGB equivalent since that is how a computer monitor displays images. Also, for digital printing applications, spot colors are applied using CMYK toner resulting in an output similar to offset printing.

Does UAL have their own manufacturing plants?
Yes, all of our products are produced internally in our own manufacturing facility and the extensive platform of our parent company, RRD.

How are UAL Labels packaged?
Most UAL labels are packaged in a convenient dispenser box at no additional cost. Digital labels are wound on a 3" core and shrink wrapped for protection.

How quickly do you ship orders?
Most orders are shipped in 5 days. Unique sizes, materials and adhesives may take longer but are typically shipped within 10 business days. In addition, rush requests can be accommodated. Contact customer service for more information.

Can you produce large label orders?
UAL can accommodate any size order, large or small. We use our extensive manufacturing platform to match the technical requirements and your order size to provide the most economical label price. If you have a large quantity application, special pricing is available, please contact customer service.

How are returns handled?
Custom products are eligible for return if it is defective or not printed as ordered. If it isn't printed properly, we'll fix it or refund your money, whichever you prefer. Non-defective custom products are not eligible for return.

I have a complex label. Should I use the Custom Label Designer to enter my custom label order?
For more complex applications, UAL uses our parent company, RRD.s, manufacturing network. If the technical nature or complexity of your requirement goes beyond the Custom Label Designer, please contact Customer Service to get specific pricing information.


Configure & Price