Despite significant national attention, medical errors continue to affect the U.S. healthcare system. Medication-related errors consistently rank at the top of all medical errors, which account for thousands of preventable deaths annually in the United States. But despite the ongoing challenges that make these issues difficult to solve, improvement only occurs through ongoing error identification and process improvements. One organization that tackles these challenges is The Institute of Safe Medication Practices (ISMP). Recently they published their 2022 - 2023 ISMP medication best practice list.
Who Is ISMP?
The Institute for Safe Medication Practices (ISMP) is a nonprofit organization committed to preventing medication errors. The ISMP collects and analyzes thousands of medication errors and adverse event reports each year. They communicate information on errors, lessons learned, and prevention strategies in numerous publications including, 2022-2023 Targeted Medication Safety Best Practices for Hospitals and weekly newsletters and regular safety alerts that guide medication best practices in healthcare organizations.
What Are The ISMP Targeted Medication Standards?
When a hospitalized patient experiences an adverse event, medications are likely involved. In fact, adverse drug events (ADEs) incorporate the largest single category of adverse events experienced by hospitalized patients, accounting for about 19 percent of all injuries. Despite ongoing attention to medication safety, ADEs remain a challenge for hospitals to solve.
The ISMP Targeted Medication Safety Best Practices for Hospitals were developed to aid those prevention efforts. They identify and encourage the adoption of consensus-based best practices for specific medication safety issues that continue to cause fatal and harmful errors in patients, despite repeated warnings in ISMP publications.
2022 - 2023 ISMP Targeted Medication Best Practices
Building on their original list published in 2014, the ISMP added three new best practices for 2022 - 2023.
New Best Practice 17
Oxytocin is a hormone used to induce labor or strengthen uterine contractions or control bleeding after childbirth. But, improper administration of oxytocin can cause a variety of problems including hyperstimulation of the uterus, which in turn can result in fetal distress, the need for an emergency cesarean section, or uterine rupture.
One of the new ISMP best practices is to safeguard against errors with oxytocin use. They recommend following these five steps:
Require the use of standard order sets for prescribing oxytocin antepartum and/or postpartum that reflect a standardized clinical approach to labor induction/augmentation and control of postpartum bleeding.
Standardize to a single concentration/bag size for both antepartum and postpartum oxytocin infusions (e.g., 30 units in 500 mL Lactated Ringers).
Standardize how oxytocin doses, concentration, and rates are expressed. Communicate orders for oxytocin infusions in terms of the dose rate (e.g., milliunits/minute) and align with the smart infusion pump dose error-reduction system (DERS).
Provide oxytocin in a ready-to-use form. Boldly label both sides of the infusion bag to differentiate oxytocin bags from plain hydrating solutions and magnesium infusions.
Avoid bringing oxytocin infusion bags to the patient's bedside until it is prescribed and needed.
New Best Practice 18
Barcode technology improves medication administration. The scanning process allows the clinical team to confirm the medication at bedside and ensures the five rights of medication administration – the correct drug, dose, time, route, and patient.
A new ISMP best practice encourages hospitals to maximize the use of barcode verification prior to medication and vaccine administration by expanding its use beyond inpatient care.
Specifically target clinical areas with an increased likelihood of a short or limited patient stay (e.g., emergency department, perioperative areas, infusion clinics, dialysis centers, radiology, labor and delivery areas, catheterization laboratory, outpatient areas).
Regularly review compliance and other metric data to assess utilization and effectiveness of this safety technology (e.g., scanning compliance rates; bypassed or acknowledged alerts).
New Best Practice 19
Improper use of any medication can cause harm, but when high-alert medications are involved, the problem is especially acute. Not only is it more common that they cause harm, but the harm they cause is likely to be more serious. This leads to both patient suffering and additional costs associated with the care of these patients.
The third new ISMP best practice suggests that providers layer numerous strategies throughout the medication-use process to improve safety with high-alert medications.
For each medication on the facility's high-alert medication list, outline a robust set of processes for managing risk, impacting as many steps of the medication-use process as feasible.
Ensure that the strategies address system vulnerabilities in each stage of the medication-use process (i.e., prescribing, dispensing, administering, and monitoring) and apply to prescribers, pharmacists, nurses, and other practitioners involved in the medication-use process.
Avoid reliance on low-leverage risk-reduction strategies (e.g., applying high-alert medication labels on pharmacy storage bins, providing education) to prevent errors, and instead bundle these with mid- and high-leverage strategies.
Limit the use of independent double checks to select high-alert medications with the greatest risk for error within the organization (e.g., chemotherapy, opioid infusions, intravenous [IV] insulin, heparin infusions).
Regularly assess risk in the systems and practices used to support the safe use of medications by using information from internal and external sources (e.g., The Joint Commission, ISMP).
Establish outcome and process measures to monitor safety and routinely collect data to determine the effectiveness of risk-reduction strategies.
Hospital and Health System Medication Safety
All hospitals and health systems face ADE and medication safety challenges. Following ISMP standards helps to mitigate those challenges by systematizing processes including:
Storing medications properly to prevent unintentional mixups
Dispensing medications using consistent processes
Ensuring safe opioid use
Preparing for medication errors if they do occur - with antidotes readily available
Consistent processes and protocols are one step providers can take to elevate the level of medication safety in their operations.
How Can UAL Help Health Systems Achieve ISMP Standards?
Labels are one tool health systems use to reduce ADEs and enhance medication safety. In conjunction with EHR systems providing safeguards that guide care team actions, labels serve as visible cues and communication devices that complement those systems. They work together to enable providers to achieve ISMP standards.
For example,
Anesthesia Drug Named Labels clearly distinguish opioids, oxytocin and other drugs which helps to prevent confusion and misidentification and safeguards against errors.
Pharmacies use PIS labels to label medications with barcodes for scanning throughout the dispensing and administration process enhancing medication safety.
Communication labels spotlight high-dosage medications and pharmacy dosage and safety procedures that help guide the care team.

When patients transition to different units within a hospital, to another facility or are discharged to go home, it can create gaps in medication therapy

. Providers use medication reconciliation to ensure therapies are executed properly. Medication instruction labels can complement those reconciliation efforts throughout the continuum of care. Pharmacy page and custom labels.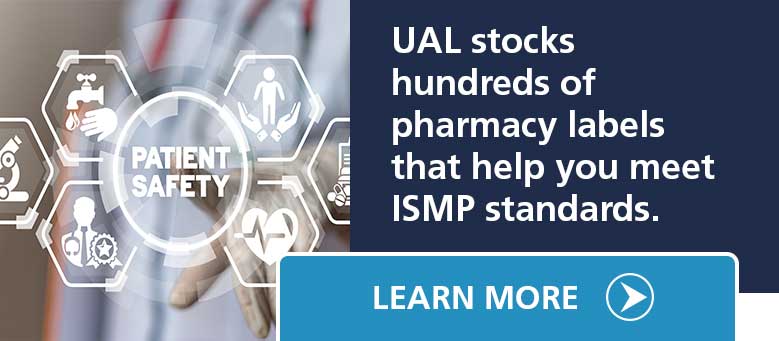 United Ad Label
With over 50 years of serving the healthcare industry, United Ad Label understands the medication safety challenges providers face. With those challenges in mind, we've developed pharmacy and medication labels that help healthcare organizations enhance medication safety and meet ISMP standards. You can order both stock and custom items that meet your specific needs. Contact us to learn more.