What do 62 cargo ships waiting to berth off the ports of Los Angeles and Long Beach mean to the average business? If you don't purchase supplies from an offshore location, you may not think it means much. But regardless of whether you purchase labels from a domestic or international source, the 13,640,000 ton backlog of fully loaded container ships serve as a visible reminder that lead times and costs are increasing for a broad spectrum of supplies. And when those are the items you need to ship your products, identify IV lines, instruct medication usage and operate your business, supply outages are not an option. But there are ways to mitigate these issues. Take these 5 steps to minimize label cost increases and avoid shipping delays.
What Is Causing Label Shipping Delays?
Why are supplies increasingly difficult to get? COVID disruptions, consumer demand shifts, labor shortages and logistical issues are just a few of the many reasons. These issues are expected to persist and present ongoing procurement challenges. While there's no doubt the pandemic created unexpected supply chain complications, they weren't all unique. For example, embargos, tariffs, capacity reductions and more in the past led to material shortages, allocations and long delivery times at various times over the last 20 years.
But as Julius Caesar is credited with saying, "Experience is the best teacher." In fact, the lessons learned from those past challenges have helped us prevent the present day obstacles from becoming bigger problems. So let's take a tour through the label supply chain, identify the difficulties you are likely to face and define steps you can take to prevent them from becoming issues for you.

What Is The Label Supply Chain?
Although the raw material provider and the converter are the two most visible parts, the label supply chain contains numerous interconnected steps that influence lead times and cost.
To demonstrate, UAL (a converter) purchases large rolls of label materials from North American raw material manufacturers. That raw material is shipped to one of our U.S. manufacturing facilities, converted into 4,000+ stock products and countless other custom items that are then shipped to a domestic warehouse or distributed directly to a customer.
The raw material that UAL obtains and the finished product you use consists of these primary components:
Face stocks
Adhesives
Liners
Although UAL material providers are located in North America, they procure raw materials from various parts of the world. For example:
Face Stocks - A face stock is the top layer of a label and is typically formed using either paper or film.
Paper is sourced from North American paper mill locations. Film is produced both on and offshore.
Adhesives - Whether it's permanent, removable or repositionable, adhesives require certain chemicals, which are produced both onshore and offshore.
Direct Thermal Materials - Direct thermal labels are commonly used for barcode printing applications in hospitals, manufacturing, retailers and more. Raw material providers obtain the coatings used to produce these materials from sources both onshore and offshore.
Plus, there are numerous other steps necessary to convert the material into a finished product:
Inks - Preprinted labels, like those used on file folders, use printing inks purchased from ink suppliers. Similar to adhesives, certain ingredients used in ink production are sourced offshore.
Tool & Die Supplies - Dies, perfing blades, cutting tools and more are necessary to produce even the most basic label. These items are purchased and serviced from local suppliers who specialize in tool and die manufacturing.
Pallets & Shipping Materials - Each finished label product is packaged using corrugated materials and many are placed on a pallet and stretch wrapped before storage in a warehouse or shipment to a final destination.
Logistics - Procuring these raw materials and shipping the finished product to the end customers requires various forms of transportation including trucks, trains and ships.
All label manufacturers have similar supply chains, so each company faces similar changes. But, here are some things to look for that will help insulate you from label supply shortages.
U.S. Manufacturing - COVID reinforced the importance of using onshore suppliers.
Multi plant operations - It's not just COVID that forced locations to close. The February ice storm in Texas, hurricane Ida and even cyber attacks have shut down businesses throughout the U.S. But companies with multi plant operations were more likely to maintain production and serve customer needs.
Multi supplier relationships - just as your company likely maintains backup suppliers for key products, investigate your label suppliers to ensure they do as well.
Purchasing power - big doesn't necessarily mean better but typically a company with more significant purchases from a raw material provider will get priority when supplies get tight.
Learn more about UALs operational processes here.
Macro Supply Chain Challenges
In addition to the above factors that can be controlled, COVID caused other disruptions which impacted various links in the supply chain. This section describes a number of macro events that have combined to cause ongoing supply chain challenges. And then we conclude with steps you can take to prevent label supply shortages and control costs.
Consumer Demand Shifts
How do consumers react when forecasters predict a severe storm? They go to the store and stock up on essential items, just in case.
COVID was a severe storm on steroids.
When it became apparent that COVID wasn't contained to a specific region, making us all vulnerable, consumers prepared by emptying the shelves of toilet paper, cleaning supplies, masks and more. In addition, the shelter in place and remote work mandates led to other shifts. People had the time to take on pet care and work on a home project. Plus, with organizations implementing remote and hybrid work environments, moves away from urban apartments to larger suburban homes increased.
In fact, these demand shifts impacted paper, a common label raw material. Lumber prices skyrocketed during the pandemic in part due to the increased demand for new single-family home construction, remodeling and other home projects. As a result, production shifted to meet lumber demands, reducing paper production and increasing pricing pressures.
Further, COVID eroded the demand for certain printed products like magazines. At the same time, the market for other kinds of paper, such as packaging, increased. So similar to lumber, when it was economically feasible to do so, companies looked to retool machinery focusing production on the most in demand segments.
COVID Closures
In addition to reduced production capacity, infection outbreaks led to plant closures and reduced staff which were not always one time events.
Similar to a traffic jam, these closures created a slinky effect in the supply chain. For example, when a car has to slam on their brakes to avoid a fender bender in heavy traffic it forces other vehicles to slow down quickly. The further back you go, the more drivers have to slow down. Although traffic eventually resumes normal speed, it takes a long time.
Similarly, in the same way it takes time for a traffic jam to clear, it takes time for the supply chain to recover. And that recovery hasn't completely occurred today.
To further complicate matters, some employees concerned about the potential for COVID infections chose not to return. So even facilities that reopened had trouble staffing production lines.
Weather Disruptions
It wasn't just COVID that caused businesses to close. The Texas ice storm, and subsequent power outages, and hurricane Ida impacted U.S. manufacturing locations resulting in extended production and distribution delays.
Labor
As companies and employees dealt with COVID uncertainties, unemployment swelled to a peak of nearly 15% in April 2020. Fortunately, 18 months later, that number has improved by nearly two thirds to 5.2%. But even with that improvement, companies in the supply chain still face labor challenges.
For example, there is significant pressure to increase wages especially in lower paying jobs. Plus, the overall demand for labor makes moving to another opportunity easier and more challenging for employers to backfill, especially for skilled positions. Trucking is another pain point. ​​In 2019, there were 14 million job postings for drivers but only 1.9 million hires were made. Plus, in 2020, 40% fewer drivers were trained due to capacity restrictions from COVID-19 and outright closures of CDL training schools.
These labor challenges result in both extended lead times and higher prices.
Logistic Challenges
As the steps in the supply chain show, even if you buy labels from a company down the street, it's likely that the raw materials used container ships, trucks, trains and planes to ultimately reach your destination. And as detailed above, the 62 ships waiting to port is a record high.
The normal amount of cargo ships at anchor is between 0 and 1.
The combination of COVID-19-related disruptions, holiday-buying surges and labor shortages have led to the backlog. Plus, shipping prices between the U.S. and Asia and the U.S. and Europe are up 500% - 800% greater than a year ago.
But once a container ship ports and unloads it's cargo, there are additional challenges to tackle.
Rail congestion caused by the record cargo volumes have overwhelmed hubs in Dallas, Chicago, Memphis and Kansas City. The containers that trains transport have gone from an average of 30 - 40 to over 250 and more.
A major shipper who asked not to be identified said, "There is total confusion of what is on site and where it is, chassis shortages, refusing truckers to return empties where they picked them up, trains not offloaded timely or loaded timely, everything is going into storage or detention."
And if the ocean cargo and rail challenges aren't enough, in addition to the trucking labor challenges described earlier, there's a shortage of equipment, including trailers, and parts to repair them. These challenges are reflected in the increased costs for all forms of freight. In the last year full truckload rates have increased 28.5%, LTL by 9.1% and parcel costs by 7.8%.
Material Allocations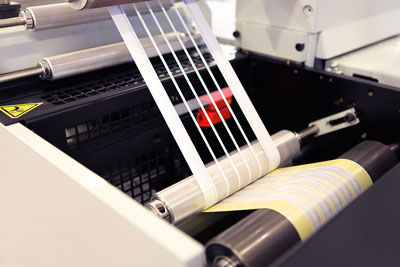 UAL's parent company, RRD, maintains raw material contracts with the largest label material suppliers which allows us to maintain a continuous supply of materials.
The consumer demand shifts, reallocation of manufacturing resources and the international shipping challenges impacts how much label material is produced. Accordingly, raw material manufacturers are forced to allocate the supplies they have available for converters. So sometimes even when a company has press time and labor available to produce the finished product, they may not have access to materials in order to do so.
Take These 5 Steps To Minimize Label Cost Increases And Avoid Shipping Delays
Unfortunately, when the input costs to produce a finished product increase, so does the price. And although the Federal Reserve believes that the inflation in prices is likely transitory, and not persistent. But even transitory inflation lasts for 6 - 18 months so label prices could remain elevated for a while.
But, there are steps you can take to minimize label cost increases and ensure an ongoing supply of materials.
Plan Ahead - same day and next day deliveries, sometimes for little or no additional cost, have conditioned us to expect similar outcomes for all shipments. But, that's no longer the case. Build in additional lead times in case of temporary stock outages or shipping delays. Plus, avoiding an emergency next day shipment will eliminate an unnecessary expense.
Order Larger Quantities - instead of your normal order quantity, consider increasing it. In addition to ensuring you have stock on hand, ordering in larger quantities may provide an overall reduced cost when you consider all factors including the product, freight, purchase order creation, invoice payment and more. Although it's difficult to know when supply chains will return to 2019 levels, it will eventually occur. When they do you can make adjustments accordingly.

Learn more about these programs.

Reserve Your Stock - similar to ordering in larger quantities, you can also reserve the annual volume you expect to use. This allows you to receive volume discounts and pre-schedule shipments so the product arrives when you need it.
Custom Storage - if you regularly order custom products a custom storage program allows you to order several months of those items, maintained in the suppliers warehouse. You can also preschedule shipments as necessary. This type of program reduces the label unit cost and saves on freight.
Consider alternatives - a secondary source can provide you the products you need if your primary supplier is unable to deliver. For example, UAL label experts can analyze your current purchases and recommend comparable UAL brand products to help prevent outages.
United Ad Label
In our 60 years in business, we've experienced supply chain challenges of all kinds. Although there hasn't been anything like COVID, we've faced challenges throughout the years and through it all we've helped our customers avoid label supply shortages and get the products they need to operate their business. Please contact us to learn more about the steps we're taking to minimize the impact of input costs and ensure you maintain a continuity of supply.