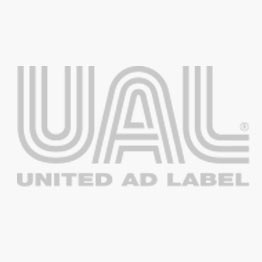 Labels help organizations facilitate business functions. From differentiating a product, tracking inventory, verifying patient information, guiding medication dispensing and enhancing communications, for almost any organization, labels advance essential workflows. Although there are stock labels that work effectively for many business functions, others require a label with some level of customization. So when defining the label you need for your operation, how do you know if you need a stock label or a custom label?
What Is A Stock Label?
Made for everyday applications, stock labels have qualities that make them an effective product for various business functions. First, they provide users with a lower-priced option. A stock label is produced in large quantities, significantly greater than a typical order amount. These sizable production runs create economies of scale, driving down the unit cost of each label, which is then passed along to the consumer.
Second, a stock label is - in stock! Each one is inventoried so they are available when you need them. Through online ordering or a phone call to customer service, they are a convenient way to get what you need fast.
Third, they are built for common business applications. For example, UAL stocks more than 4,500 stock items used in healthcare, veterinary, manufacturing, distribution, professional services, and general business for applications ranging from basic printer labels to complex safety labels required to withstand harsh conditions.
What Is Custom Labeling?
Custom labeling incorporates unique features that aren't available from a typical stock product. Those features might include personalization, barcodes and numbering, branding, logos, colors, sizes, special materials and adhesives, and more. Here are a few examples of custom label applications:
Personalization - adding a phone number or other contact information. It's common to add personalization to repair and maintenance labels so people know who to call if they experience a problem.
Variable numbering - a unique numbering or barcode series printed on labels and then applied to parts, equipment, inventory and more.
Branding - product labels and other customer-facing items requiring unique branding elements, such as a logo, colors, design elements and more.
Warnings - a bright or unique color that stands out to alert or warn a user.
Harsh conditions - protecting a label from chemicals, oils and overall wear and tear typically requires a coating or specialty material. This calls for a laminate which serves as a protective film, or a specific material like polypropylene.
Temperature - applying a label to extremely cold items or items that are exposed to extreme temperatures after application and requiring special adhesives.
Surface size - labeling a small or unique-sized item typically requires a label with a non-standard dimension.
Custom labels adapt to the unique workflows that are typical of any business.
Stock and Custom Labels for Key Industries
Although some products like address labels can be used by any company, there are numerous stock and custom label applications that are specific to an industry. For over 60 years UAL has supplied stock and custom labels designed for unique applications in industries including healthcare, veterinary, manufacturing, warehousing, distribution, general business and more. For example…
Healthcare Labels
Healthcare organizations from critical care hospitals, ambulatory surgery centers, doctor's offices and laboratories have processes that are different from any other industry and require labels that are specific to those needs. These stock labels address many common applications:
Admission labels - provide positive patient identification, enhance patient safety and help the medical staff confirm that treatments or procedures are intended for a specific patient.
Infection control labels - inform the medical staff, patients and visitors to take proper precautions to minimize the spread of infections.
Medical labels - guide the proper administration of medications to patients.
Laboratory labels - identify and track laboratory samples, and communicate effectively throughout a medical lab or facility.
Pharmacy labels - communicate information from the doctor and the pharmacy and help guide using the medication correctly.
In addition, health systems may require custom labels:
Medication labels that meet internal protocols or conform to different color standards than ASTM standards.
IV line label for unique/specific protocols.
Clinical engineering labels that include service and contact info.
ID badge labels that specify different departments.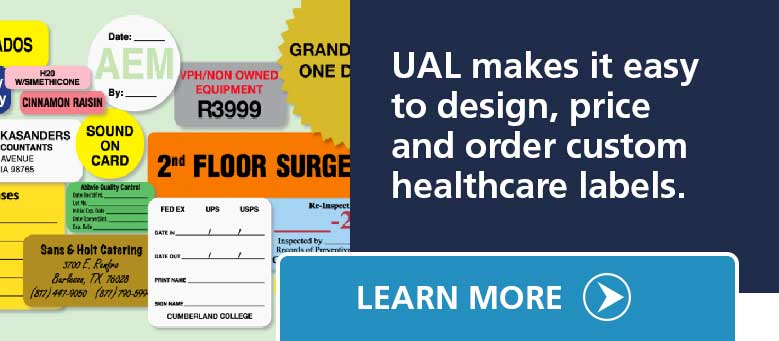 Manufacturing, Warehousing & Distribution Labels
From receiving the raw materials necessary to manufacture a product to transporting the finished goods to their end destination, stock and custom labels facilitate numerous manufacturing, warehousing and distribution functions.
Common manufacturing, warehousing and distribution stock label applications:
Common manufacturing, warehousing and distribution custom labeling applications:
Asset tags - use unique numbering and barcode series to enable tracking for each item
Product labels - are essential to any consumer products company including craft beer, wine and spirits, CBD and cannabis, food and beverage and household products. They grab the consumers' attention, promote the brand and provide other important information
Service labels that note completion dates and quantify the type of service performed may also need the standard contact and emergency information of the service company
ID badges labels that specify different departments

Veterinary Labels
Whether it's a standard check up or treating an illness or injury, stock and custom labels augment medication dispensing, patient safety and staff communication.
Common veterinary stock label applications:
Board and Care labels - detail all types of special care requirements
Medication Dispensing labels - guide the proper administration and use of medications and help to prevent medication errors.
Prescription labels - prescription labels enable safe and accurate medication dispensing and assist pet owners by communicating proper storage and caregiving once the pet is at home.
Common veterinary custom label applications:
Medication labels - contain standard contact information and/or a 24-hour emergency number.
Drug syringe labels - designed for the specific processes of a veterinary practice.
Communication and care Instruction labels - reflect unique patient care requirements.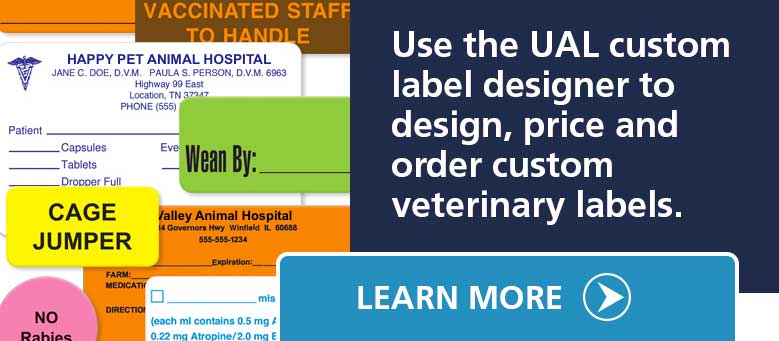 United Ad Label Custom and Stock Labels
United Ad Label stocks labels that are essential to any organization. With over 4,500 stock items and extensive custom label capabilities including our easy-to-use Custom Label Designer app, we supply the labels you need to keep your business running smoothly.