In 1999 the Institute of Medicine published a pioneering report, To Err Is Human: Building A Safer Healthcare System. It was the first report to highlight the human cost of medical errors. Their research uncovered that as many as 98,000 patients had died from preventable medical errors in U.S. hospitals each year. But the report didn't point fingers at healthcare workers who made honest mistakes. Instead, it focused on the importance of reducing medical errors and improving patient safety through the design of a safer healthcare system. One system that improved as a result of these findings was using labels to communicate crucial information throughout the patient care spectrum. Surprising? Not really. Here is how medical labels are improving patient safety and quality of care.
Why Are Labels Important In Medicine?
In healthcare organizations, labels elevate essential communications between the clinical staff and between staff and patients. Labels guide proper medication administration, instruct patient care, enhance patient safety, communicate information when it can't be done in person and reinforce verbal instructions once the caregiver departs.
These are just a few of the essential functions medical labels perform that improve patient safety and quality of care.
Ensuring Patients Understand Treatment Regimens
The Cleveland Clinic reported that nine out of 10 Americans don't fully understand or remember what to do after a visit with their doctor. Four out of 10 individuals don't fully understand how to take their medication correctly or care for themselves after leaving the hospital.
But medical labels can serve as a reminder to how the patient should use the treatment. For example, a medication regimen can include all kinds of variables including:
Dosage
Frequency
Time of day to take the medication
If the medication should be taken with food
If the medication requires refrigeration
What foods to avoid
Potential side effects
And more
Although a prescription includes instructions for use and a caregiver typically reviews those details, many patients forget what they are told soon after discharge. But a medication instruction label applied to the container can serve as a reminder and guide administration, making it simpler to take multiple medications safely as prescribed.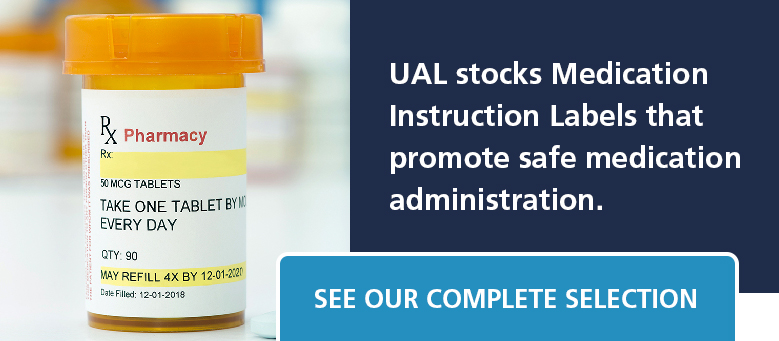 Verifying Medical Procedures
Adverse drug events, often caused by medication errors, remain among the most common types of inpatient errors. With an estimated 90 percent of hospitalized patients in the U.S. receiving IV therapy for medications and other fluids at some point during their stay, administering medications safely is paramount.
There are several medication dispensing steps where a medical label helps to manage the process.
Line identification - an IV line label identifies the route of medication dispensing. Line identification is especially important when multiple lines are involved. In fact, as the amount of lines increases, so does the potential for errors.
Medication type - an IV line label identifies the medication that's being dispensed.
Dosage - throughout the duration of the IV, the dosage required may change.
Tubing changes - IV tubing requires regular changing. IV line labels, specifically change reminder labels, guide the timing of tubing changes.
Syringe fill points - certain types of syringes can be difficult to gauge. A syringe dosage allows the administrator to clearly identify the proper fill point which decreases the risk of an improper dosage.
Multi-dose vials - after opening, the vial should be marked with the last date the product should be used. A syringe dosage communication label that contains a line to record the expiration date ensures the medication is used in accordance with the manufacturer's instructions.
Medications that aren't conventionally labeled - using syringe labels on items including syringes, medicine cups and basins helps prevent confusion and misidentification.
Surgical procedures are another higher-risk area. Use multiple, complementary strategies to ensure you conduct the correct procedure on the correct person at the correct site. Surgical time-out and preoperative checklist labels ensure accurate patient identity, surgical site, and planned procedure.
Identify Patients Properly
Identifying patients accurately and matching the patient's identity with the correct treatment or service is a critical factor in patient safety. In fact, patient identification mistakes create a ripple effect that can impact everything from making an incorrect diagnosis to administering the wrong medications to performing the wrong procedures and more.
Medical labels including admission labels and patient wristbands provide positive patient identification and communicate other important information to the medical staff including allergies, fall risk and other medical alerts.
Infection Prevention
Infections remain one of the biggest challenges that healthcare organizations face. When a patient contracts a:
Central Line-Associated Bloodstream Infection
Catheter-Associated Urinary Tract Infection
Surgical-Site Infections from Colon Surgery
Hospital-onset Laboratory-identified Blood Infection
Hospital-onset Clostridium Difficile (C. diff) Laboratory-identified Infection
. . . during their hospital stay, there is a substantial increase in the mortality rate for that patient.
Infection prevention requires procedures and policies aimed at the root cause. And hand hygiene, or lack of it, remains a primary culprit. Direct contact with bacteria and other types of germs, usually by the hands, is the most frequent mode of infection transmission.
Medical labels including infection control signs, precaution labels and more complement an organization's protocols and ongoing training programs. They communicate the importance of hand washing and antibacterial gel application to staff, visitors and patients. They also highlight special hand washing precautions for COVID-19, C. diff and other resistant microorganisms.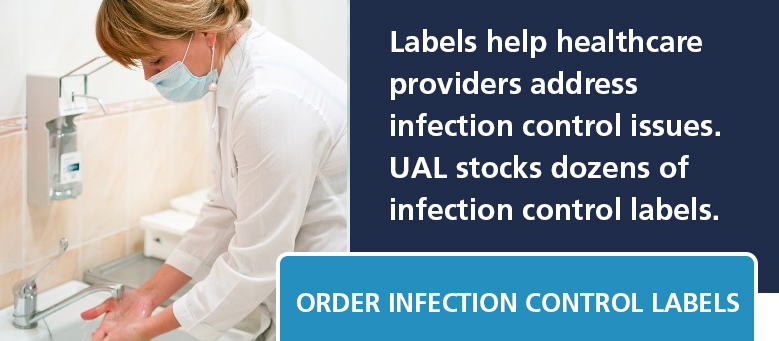 Supporting Medical Device and Alarm Safety
Medical devices are an essential part of patient care underlined by the 10 to 15 million medical devices in U.S. hospitals today. With an average of 10 to 15 devices per hospital bed, the reliance on these devices can't be overstated. Although it's impossible to achieve 100% uptime, the inspection, maintenance and safety steps performed by biomedical and clinical engineering departments are essential to ensure properly functioning medical devices.
Maintenance, calibration and safety labels guide the safe use of medical devices. They inform caregivers about the maintenance regimen, calibration data, safety checks and more, allowing the clinical staff to use medical devices more reliably and elevate their ability to safely treat patients.
In addition, alarm systems are built into many medical devices. Although alarms alert caregivers to the need for immediate patient care, the results from this simple concept are a mixed bag. For example, false-positive alarms are known to be a serious problem. And, so are threats to patient safety due to alarms that are missed, suppressed or not working. Medical device alarm system labels help health systems track and communicate important safety, maintenance, calibration and inspection information to ensure that alarms sound when needed.
Although there are standard format or stock labels designed for many of the applications discussed above, your specific needs may require a custom medical label.
Benefits Of Custom Medical Labels
Custom medical labels allow you to communicate in a very specific way based on the unique needs of your operation. Each item is designed to meet specific protocols, aid patient safety, guide processes or detail location-specific information. Common medical label applications include:
Medication - Distinguish anesthesia drug labels and dosage amounts through different colors, stripes and borders
Pharmacy - Detail the data points required on a pharmacy label by the FDA and provide the medication instructions to help ensure proper medication administration by the clinical staff and patient
Nursing - Communicate instructions such as 'Contact Nursing When Supply Is Under 10 Units'
Biomedical - Label equipment with facility name, department and phone number or service company name and number
Laboratory - Handle, store and track specimens using your consecutive numbering and barcode series.
United Ad Label
For over 60 years, United Ad Label has produced stock and custom medical labels that improve patient safety and the quality of care. Our catalog of over 4,500 items are in stock and available for immediate shipment. Plus, when your needs call for a custom medical label, our online custom label designer app allows you to easily design, price, proof and order a product that meets your specific needs. Contact us to learn more.