Will the fall of 2021 become known for the "twindemic?" As we approach flu and respiratory illnesses season and with hospitalizations on the rise due to the Delta variant, we're about to find out. And with each virus sharing symptoms including a cough, shortness of breath, runny or stuffy nose, fatigue and sore throat, there are challenges ahead for healthcare providers and patients. The process changes healthcare organizations implemented for COVID are part of the solution, but the flu adds further complications. Use these steps to prepare for flu season in the time of COVID.
Predicting The Severity Of Flu Season
In a normal year, experts can measure trends from the southern hemisphere, where flu season runs from April to September. This data guides vaccine development that targets the most prevalent strains and best protects people as the virus moves north. But, with more stringent stay at home orders and better adherence to masking, flu remained in check in those areas and didn't provide the normal clues.
On the positive side, flu viruses that are circulating here appear to have less genetic diversity than normal, which may mean that our current vaccines will better match the circulating strains and therefore offer better protection.
Unfortunately, not all data is positive. In fact, various studies predict an increase in hospitalizations. One study predicted that there could be 100,000 to 400,000 more flu hospitalizations in the 2021-2022 flu season compared with a typical season.
Use These Steps To Prepare For Flu Season In The Time Of COVID
With many yet to be defined variables, it's impossible to know if increasing COVID infections and a severe flu season will coincide. But, it remains prudent to prepare for their potential collision.
Vaccines Remain The Best Deterrent
The best thing you can do to stay healthy this cold and flu season is get vaccinated—against the flu and COVID-19. With nearly 55% of the U.S. population fully vaccinated against COVID and 2021 flu vaccines just beginning, ongoing awareness and education remains an important step to driving compliance.
Should you encourage your staff to show their vaccination status as a form of awareness and education? There are different schools of thought on the best approach.
For example, Nebraska Medicine and Marshfield Clinic Health System in Wisconsin give employees the option to place a sticker on their badge or use a certain type of badge reel indicating they've been vaccinated against COVID. But, at the Yale New Haven Health, all employees are required to get the vaccine, with limited exceptions, and wear masks. Because of the system's clear public stance on vaccinations, they didn't feel an additional indication of vaccination status was necessary.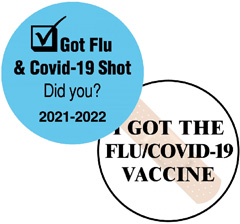 Regardless of the approach you choose to take, the fact remains that a COVID or Flu sticker worn on badges and provided to patients once vaccinated can help you communicate the importance of vaccines and serve to encourage others to get the jab.
Distinguishing Between COVID, Flu & Other Respiratory Illnesses
Even as COVID-19 vaccination rates climb slowly upward, over 100 million people ages 12 and above are not vaccinated. Plus, even though breakthrough cases are rare, they do occur at approximately a 1% rate. This means a large part of the population is susceptible to COVID, the flu and other respiratory illnesses. And with each having similar symptoms, testing is the only viable way to confirm a diagnosis.
Testing Protocols
Proper specimen collection remains the most important step in the laboratory diagnosis of COVID-19. And as soon as the decision has been made to test someone, a specimen should be collected.
Although people that suspect they have COVID may use home testing kits or independent testing facilities, an increased demand for tests impacts physicians offices, clinics and acute facilities as well. From September X through September Y , the reported amount of tests conducted in that seven day period was over 1,500,000. And with the potential for flu symptoms to elevate these numbers, a seamless collection and testing process is essential.
The CDC recommends collecting and testing from the upper respiratory tract. Lower respiratory tract is also an option, but due to the potential for aerosol production during the procedure, it's not the preferred alternative.
Further, once the specimen is collected, these steps will ensure the process functions smoothly - to the lab for analysis and back to the patient with results.
Segregating Patients
Once you know the results of the test, segregating patients accordingly aids in your ability to initiate appropriate treatments and prevent further infections. This is especially important in emergency departments and in facilities or situations when private rooms aren't available. Although managing the infection prevention challenges for one of these viruses is challenging, adhering to the appropriate infection control processes for two is far more difficult.
COVID-19 And Flu Infection Prevention
Your staff likely know the risks, yet a high percentage of medical workers in most healthcare organizations don't comply with infection prevention measures. Although compliance improved during peak COVID demands, recently it reverted back to the mean. Even though successful programs require ongoing training, education and feedback, there are short term improvement steps you can take that have a positive impact.
Hand Hygiene Signage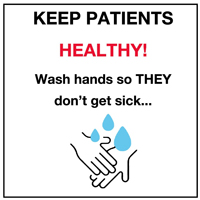 Much like education and training, signage both reminds and instructs healthcare workers on the importance of taking hand hygiene steps and the appropriate methods to follow. Plus, the signage can also target visitors and patients to improve their compliance.
Visitors Impact On Infection Transmission
Do visitors impact infection transmission? A recent study examined the frequency of patient contact with healthcare personnel and visitors. Not surprisingly, nurses account for the most visits with patients, but the second leading group might surprise you. It is not the medical or clinical staff, instead it's visitors.
In fact, visitor contact was eliminated or limited during peak COVID hospitalizations last year and providers continue to monitor cases and adjust visitor access as necessary. But the amount of time the average visitor spends with a patient is longer and they are more likely to have physical contact. This contact includes touching surfaces in the room, the patient's skin and even blood or body fluids.
Much like healthcare workers, mitigating the potential infection prevention challenges that visitors pose requires communications from multiple dimensions. Signage is one of the most visible methods to remind and encourage effective infection prevention steps.
Prepare For Supply Chain Challenges
Paul D. Biddinger, MD, medical director for emergency preparedness for Mass General Brigham believes if the surge in COVID and flu coincide, we will see an increased demand for personal protective equipment and supply chain disruptions for lab testing and critical care supplies.
According to data from Premier, most hospitals and health systems are seeing greater availability of various types of personal protective equipment compared to the early days of the COVID-19 pandemic, but the overall PPE supply chain is still fragile. For example, exam gloves, N95 masks, surgical and isolation masks and isolation gowns all remain available but supplies are potentially precarious.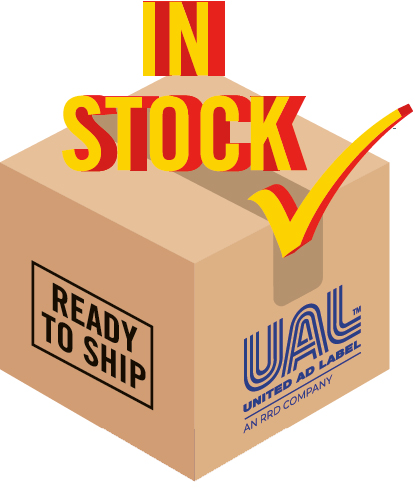 Further, label materials used for numerous healthcare functions including segregating PPE, labeling vials, encouraging infection prevention and more are volatile as some providers are unable to maintain stock.
United Ad Label
UAL provides healthcare organizations with cost effective solutions to compliance, patient safety and common business applications and can help you to prepare for flu season in the time of COVID.