An average of at least one error per day. That's what the Institute of Medicine estimated that hospitalized patients experience during their stay. Despite ongoing provider education and awareness programs ranging from The Joint Commission's National Patient Safety Goals, ECRI's Top 10 Patient Safety Concerns Report, the Leapfrog Hospital Survey on safety and quality, the Anesthesia Patient Safety Foundation (APSF) Top Ten Patient Safety Priorities and more, highlighting medication safety challenges and corrective actions, it hasn't resulted in a significant drop in incidents.
Although errors occur throughout the episode of care, administering anesthesia is one specific area of concern. With the nearly 18,000,000 procedures involving anesthesia each year, coupled with the challenging nature of a surgical environment, anesthesia is a hot spot for potential medication errors (MEs). Plus, with labeling errors at the top of the list when an Adverse Drug Effect (ADE) or ME occurs, the importance of quality anesthesia labels cannot be understated.
What Is An Anesthesia Label?
Anesthesia labels assist medical professionals in labeling medications properly. They supplement the printed information on prescription and prepared medications. Anesthesia labels allow the medical staff to more clearly identify drugs, record key data points such as drug name, strength and more, to aid in proper dispensing.
Why Are Anesthesia Labels Important?
Each year, 7,000 to 9,000 people in the United States die as a result of a ME and thousands of other patients experience but often do not report an adverse reaction or other medication complications. Illegible handwriting, confusion over similarly named drugs, indecision created by similar packaging between products, and errors involving dosing units or weight are all contributing factors.
Although ADEs and MEs occur throughout the patient care spectrum, the high-stress, time-sensitive demands in a perioperative setting makes it especially susceptible to adverse drug events and medication errors. And when an error occurs, the most common type of error is a labeling error.
Anesthesia drug labels help minimize these errors and contribute to safer medication dispensing.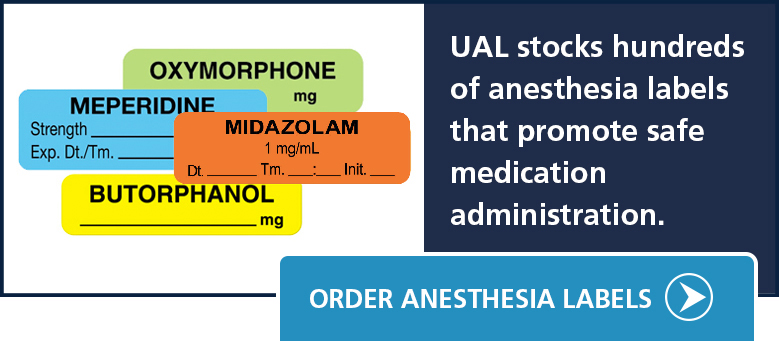 Common Anesthesia Labeling Errors
The more than 150 different medications used for general, regional and local anesthesia and for sedation purposes create challenges for caregivers much like the medications used during any phase of patient care. Look-alike, sound-alike drugs, confusing, inaccurate or incomplete drug labels and packaging, swapping of syringe labels and unlabelled syringes are all culprits.
In addition, the use of color using ISPM guidelines is widely considered a way to enhance safe medication administration but because of differences between provider prepared anesthesia vs. commercial packaged options it can create potential challenges. Ultimately, errors occur when the color coding is used as a substitute for medication selection instead of a guide used in conjunction with reading the drug information.
Anesthesia drug labels are designed to help prevent these errors. They wrap around a syringe to accurately identify the medication. The fields on the label include lines to record the drug strength, expiration date and time. Further, Tall Man and Look-Alike Sound-Alike flags alert the medical staff to drugs that have a name similar to other medications.
What To Look For In An Anesthesia Label Supplier
There are over 2,000 label manufacturers in the U.S, and most provide an easy ordering process and timely deliveries. But, for anesthesia labels, there are many other considerations that go beyond those basic qualities you look for with any supplier.
These are key points to consider when looking for an anesthesia label supplier:
Do they currently serve healthcare organizations? Like many industries, hospitals, ambulatory centers, clinics and more have unique requirements. But, most other industries don't face the patient safety challenges that medications like anesthesia can create. Nor do they face the compliance infractions, or worse yet, a potential preliminary denial of accreditation if an ADE occurs. Working with an anesthesia label supplier with TJC and CMS experience, knowledge of the vials, syringes, IV tubing and more that the labels are applied to and an understanding of the internal processes the clinical staff follows, are all important considerations.
Do they supply stock anesthesia syringe labels? If so, how many different items? There are hundreds of drug-named labels that identify specific types of drugs and aid safe medication dispensing. A knowledgeable supplier will stock a wide array of items at a lower cost than a custom product. Just make sure they meet your exacting specifications.
In addition to stock supplies, do they offer custom label manufacturing capabilities? Accomplished anesthesia label suppliers will stock most of the items you need for your operation. But, there are unique applications that require a custom label. Choosing a knowledgeable supplier with both stock and custom anesthesia label capabilities is the ideal scenario.
Do they have access to the label materials necessary to produce an ongoing supply of anesthesia labels? The supply chain challenges impacting many industries also affect label manufacturers. In fact, raw material suppliers are allocating supplies which have created shortages for some items. Companies with strong supplier relationships and a history of consistent material purchases are the most likely to have the items you need when you need them.
Is their customer service team educated in healthcare applications? In addition to providing the more common pricing, availability, shipping and delivery information, an effective anesthesia label supplier should be able to answer questions about the label specifications that are unique to your applications.


United Ad Label
For over 60 years, United Ad Label has produced stock and custom anesthesia labels that improve patient safety and the quality of care. Our catalog contains hundreds of products used throughout the healthcare system that are in stock and available for immediate shipment. Plus, when your needs call for a custom anesthesia medication label, our online custom label designer app allows you to easily design, price, proof and order a product that meets your specific needs. Contact us to learn more.