Not that long ago, file cabinets were a necessity to organize and store printed files. But now, for most businesses, the majority of those filing systems have been replaced by hard drives and cloud storage. But even though we don't print and save our documents very often, we use printers more than ever. Businesses from Etsy stores and local restaurants to massive distribution centers and services from hospitals to veterinary practices utilize printers to execute business functions more than ever. And as printing technology advances, the use of thermal printing has become more prominent. Use the guide to thermal labels to get a better understanding of how to use thermal printing technology and equip them with the thermal labels you need for your specific applications.
What is Thermal Printing?
Thermal printing is a technology that uses heat to elevate the temperature of a printhead, contained within either a direct thermal or thermal transfer printer, which then creates black text or images on thermal labels or paper.
There are two types of thermal printing devices. Each one operates in a slightly different way.
Direct thermal printers press the heated printhead against chemically treated label material or paper to activate the image.
Thermal transfer printers transfer solid ink from a ribbon to fuse it to the material.
Both direct thermal and thermal transfer printing are effective options for a variety of applications.
To learn more about the thermal labels RRD, UAL's parent company, offers along with our full selection of shipping and warehouse labels, visit the Shipping and Warehouse labels page on RRD.com.
Why Use Thermal Printing?
Starting with the cost to operate, thermal printing delivers a number of benefits compared to other alternatives. For example, neither direct thermal nor thermal transfer printers require ink or toner cartridges which means the only consumable expense are labels or ribbons. In addition, because thermal printers have few moving parts, overall maintenance costs are lower compared to dot matrix, inkjet or laser printing.
Plus, depending on your specific applications, each type of thermal printing offers additional benefits.
Direct Thermal
Produces high-quality sharp images making it ideal for printing barcodes, graphics, and text
Easy to print in batch or just a single label with virtually no waste
Ideal for applications that don't need to last for an extended time frame including shipping labels and receipts
Operate effectively in both industrial and office applications
Thermal Transfer
High-quality sharp and crisp text, graphics and barcode images maximize readability and scannability
Long-lasting and fade resistant
Easy to print in batch or just a single label with virtually no waste
Flexible to print on numerous different types of label materials
Lastly, both direct thermal and thermal transfer printers are easy to set up and operate.
RRD, UAL's parent company, helped one auto parts supplier streamline their thermal printer setup to reduce the printers required by 66%. Read the case study on RRD.com.
What are Thermal Labels Used For?
Numerous industries use thermal labels in a variety of different applications. For example,
Logistics
The speed and reliability of both direct thermal and thermal transfer printers make them ideal for fast-paced manufacturing and distribution operations. Address and shipping labels, pallet labels, rack labels and inventory labels are typically printed using direct thermal printers, while safety labels, chemical labels and other applications that require a longer label life or face harsh conditions, require the durability of the thermal transfer process.
In addition, direct thermal printers accommodate linerless labels, which are an environmentally friendly option not available for laser and dot matrix devices.
The linerless labels expertise of RRD, UAL's parent company, allowed a large retail chain to move to smaller rolls that produce less waste and require less labor. Read the case study on RRD.com.
Why should your labels should be linerless?
Veterinary
Veterinary practices use direct thermal labels to execute a variety of workflows. Common applications include front office functions like address labels and appointment reminders and clinical functions such as specimen labeling, medication dispensing and more.
Healthcare
Throughout hospitals, ambulatory surgery centers, clinics and physicians offices, it's typical to find thermal printers that execute a number of different patient care steps. For example,
Admissions - direct thermal wristbands provide positive patient identification and communicate important information to the medical staff including allergies, fall risk and other medical alerts.
Pharmacies - utilize thermal printing for prescriptions and medication instructions. These direct thermal labels are designed to work with Pharmacy Information Systems software including:
Laboratory - receptacles that contain specimens often come in contact with fluids, and they may be subjected to extreme temperatures. Laboratories use thermal printing to label specimens vials, test tubes, slides and more. Similar to pharmacy applications, direct thermal and thermal transfer label formats are designed for laboratory information systems including Cerner, EPIC Sunquest/MISYS, Meditech, Softlab, and McKesson.
Central Stores and other areas with storage, shipping and mailing requirements use direct thermal labels for shipping, labeling assets, monitoring inventory and more.
Plus, glove safe thermal label adhesives prevent the labels from sticking to gloves and disrupting patient care.
Common Thermal Label Formats and Sizes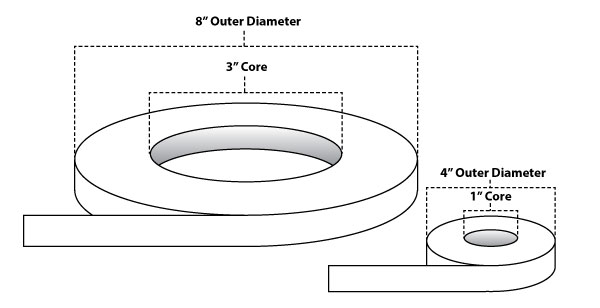 Thermal labels are most commonly produced in rolls (fanfold is an option) with either a 3/4", 1" or 3" core. Depending upon the size of the core, the outside dimension will vary in size. For example, a one-inch core will contain label stock with an average outside dimension between four- five inches while the three-inch core has a maximum dimension of eight inches.
In addition, the average print width is four inches, however always check your printer make and model for the exact specifications. Although a thermal printer cuts the label stock so the length of the printed label can vary, the actual size is often driven by the application or system you are using. To illustrate, the dimensions of an address label correspond with the size you'd expect, 1.5 x .5 inches. And the size of a pharmacy label will be consistent with the format that the pharmacy information system generates.
Types Of Thermal Printer Labels
Identifying the type of thermal printer labels you need for your operation always starts with defining the type of printer you use.
Direct Thermal and Thermal Transfer Printer Labels
For example, UAL separates direct thermal and thermal transfer into unique sections that are then segmented further into size and application requirements. In addition, you can search for labels designed for specific printers, including:
And specific formats and functions such as:
United Ad Label
United Ad Label stocks direct thermal and thermal transfer labels that are essential to any organization with thermal printers. With hundreds of labels in stock, we can quickly supply the labels you need to keep your business running smoothly.