ISMP Introduces New Best Practices and Revisions for 2016/2017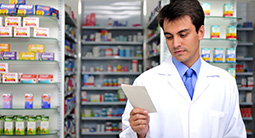 United Ad Label is dedicated to supplying relevant stock labels and custom products to support our customers' on-going efforts to improve communication within a facility as they strive to provide safe, quality care.
ISMP Introduces New Best Practices and Revisions for 2016/2017
The Institute for Safe Medication Practice (ISMP) Best Practices (BP) are realistic practices, already adopted by many organizations, upon which hospitals can focus their medication safety efforts. United Ad Label offers a variety of stock labels and wristbands as well as custom labels to facilitate effective communication required to meet these BP's.
The new document can be found on the ISMP website at www.ismp.org/tools/bestpractices/TMSBP-for-Hospitals.pdf.
Revisions from the Institute of Medication Practices
BP2 Revision- a) Require a hard stop verification of an appropriate oncologic indication for all daily oral methotrexate orders. b) Provide specific patient and/or family education for all oral methotrexate discharge orders.
This revision recognizes that while a hard stop on daily oral orders is a best practice, hospitals with manual systems and electronic order entry systems that cannot provide a hard stop needed a process and time to work with software vendors. The second part allows the education for patients discharged on oral methotrexate to be effectively provided by a nurse, pharmacist, or physician; and no longer limits this function to a pharmacist. The best practice also extended the need for education to all oral methotrexate discharge order and not just weekly orders.
---
BP3 Revision - Weigh each patient as soon as possible on admission and during each appropriate outpatient or emergency department encounter. Avoid the use of a stated, estimated, or historical weight.
The revision encourages actual weights be taken to help ensure accuracy in medication dosing. This BP also encourages that weights always are measured in Kilograms to help prevent confusion.
---
New Best Practices from the Institute of Medication Practices
NEW BP 7- Segregate, sequester, and differentiate all neuromuscular blocking agents (NMBs) from other medications, wherever they are stored in the organization.
Inadequate labeling and unsafe storage has been the root cause in a majority of reports concerning accidental administration of NMBs. Keeping NMBs separated from other medications and using proper warning labels such as placing auxiliary labels on all storage bins and final medication containers (vials, syringes, and IV bags) of NMBs that state: "WARNING: PARALYZING AGENT-CAUSES RESPIRATORY ARREST" can be an effective means of preventing mix-ups.
---
NEW BP 8 - Administer high-alert intravenous (IV) medication infusions via a programmable infusion pump utilizing dose error-reduction software.
This best practice aims to encourage the use of dose error-reduction technology to prevent IV medication errors. This is especially important when high-alert medications are administered because of the increased potential for harm.
---
NEW BP 9 - Ensure all appropriate antidotes, reversal agents, and rescue agents are readily available. Have standardized protocols and/or coupled order sets in place that permit the emergency administration of all appropriate antidotes, reversal agents, and rescue agents used in the facility. Have directions for use/administration readily available in all clinical areas where the antidotes, reversal agents, and rescue agents are used.
This best practice aims to ensure that antidotes, reversal agents and rescue agents are readily available and able to be administered without delay.
---
NEW BP 10 - Eliminate all 1,000 mL bags of sterile water (labeled for "injection," "irrigation," or "inhalation") from all areas outside of the pharmacy.
Reports of accidental administration of an intravenous (IV) infusion of sterile water to a patient have prompted the creation of this goal. Because the products look very similar, mix-ups between 1 Liter bags of hypotonic sterile water and 1 Liter bags of 0.9% sodium chloride and 1 liter bags of dextrose 5% (D5W) have occurred, resulting in patient harm.
---
BP 11 - When compounding sterile preparations, perform an independent verification to ensure that the proper ingredients (medications and diluents) are added, including confirmation of the proper amount (volume) of each ingredient prior to its addition to the final container.
This best practice aims to prevent the medication errors that are not detected with proxy checks, such as the "syringe pull-back method, by encouraging preproduction checks and the use of sterile processing technology. This is especially important for high-alert medications.
---
As always, if you have any questions or comments, feel free to reach out to us at United Ad Label.