Metric Units Make for More Accurate Medication Doses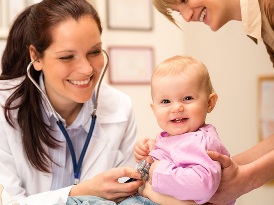 Time and time again, it's been illustrated that education and communication play an essential role in safe and effective care. United Ad Label is dedicated to helping these efforts by providing stock labels and custom capabilities, as well as providing timely information pertaining to the healthcare industry.
American Academy of Pediatrics Updated Dosing of Orally Administered Liquid Medications
In April 2015, the American Academy of Pediatrics (AAP) gave new recommendations on how oral medications should be prescribed and given to children. The following recommendations are for caregivers, healthcare providers, and the medication industry:
Orally administered liquid medications should be dosed exclusively by using metric-based dosing with milliliters (mL) to avoid confusion and dosing errors associated with common kitchen spoons.
The only appropriate abbreviation for milliliter is "mL," and the use of alternatives (eg, ml, ML, cc) for dosing orally administered liquid medications should be avoided.
Milliliter-based dosing should include leading zeros preceding decimals for doses less than 1 mL (eg, 0.5 mL) to avoid 10-fold dosing errors.
Trailing zeros after decimals should not be included when dosing in whole number units to avoid 10-fold dosing errors.
The concentration (strength) of all orally administered liquid medication (eg, in milligrams per milliliter [mg/mL]) should be clearly noted on prescriptions to enable accurate calculation of the medication dose administered.
Pediatricians should review milliliter-based doses with patients and families at the time that orally administered liquid medications are recommended or prescribed to ensure adequate health literacy for metric dosing units.
Pharmacies, hospitals, and health centers should dispense orally administered liquid medications with metric dosing on the label and should distribute appropriate-volume milliliter-based dosing devices with all orally administered liquid medications.
Syringes (optimally, those designed to partner with flow restrictors) are the preferred dosing device for administering oral liquid medications. Cups and spoons calibrated and marked in milliliters are acceptable alternatives.
Dosing devices should not bear extraneous or unnecessary liquid measure markings that may be confusing to caregivers.
When possible, dosing devices should not be significantly larger than the dose described in the labeled dosage to avoid twofold dosing errors.
Manufacturers should eliminate labeling, instructions, and dosing devices that contain units other than metric units.
Researchers should study the effect of caregiver health literacy on dosing precision to determine the best strategies to prevent unintended dosing errors among minorities, immigrants, and those with low health literacy.
The AAP's new recommendations are based on educating the healthcare industry and those administering medications that overdoses are preventable, attempting to reduce the 70,000 yearly ER visits due to accidental overdoses of medication and eliminating misunderstandings in measurements. The AAP is also recommending that all prescriptions be written in metric units to help administer the correct amount of medication to children.
It is also recommended that parents administer medications (both over the counter and prescribed) with a syringe that has metric units, which are available at drugs stores and can be provided with prescription medication.
The full update can be read at the American Academy of Pediatrics website. If you have any questions or comments, feel free to reach out to us at United Ad Label.