Have you ever played the snap test? It's one way financial analysts assess a company. If you snapped your fingers and the company no longer existed, would anyone notice? If the answer is no, the company probably isn't a good long-term investment. The snap test works in other areas as well. For example, what if you snapped your fingers and no longer had a label. Would it disrupt your organization in any way? Because it's unlikely labels are the first thing you wake up and think about each day, you might be surprised at their importance. But your operation won't function without the labels that are essential to your business.
11 Labels That Are Essential To Your Business
Let's apply the snap test to labels in different industries. Although the processes may differ, within each unique industry there are operations that would grind to a halt without a label.
This post is divided into three sections that show examples of the snap test for each industry.
Read through the entire post, or if you prefer to go to a specific section, just click on that link.
Healthcare Labels
What healthcare organization could function without medications, intravenous solutions, wound dressings, operating tables, bed linens, cleaning supplies, or PPE? Yet, if you snapped your fingers and eliminated the following labels, you couldn't function without them either.
Admission Labels and Wristbands
Patient identification is the foundation of effective care. But with shift changes; floating, temporary and traveling nursing staff; doctors with minimal time to spend with patients; sorting through medications, lab tests and more, properly identifying a patient requires multiple steps.
In fact, the first step in patient identification are admission labels and wristbands. They are the foundation of patient safety in hospitals and an essential part of the two forms of identification The Joint Commission requires. This ensures patients get the correct medication, treatments, and medical alerts like allergy and fall risk.
Anesthesia Drug Labels
Adverse drug events (ADEs) are one of the most common types of inpatient errors and a challenge for ambulatory centers as well. The Agency for Healthcare Quality and Research found that ADEs are four times more common with ambulatory patients.
Medicines that are not conventionally labeled are common culprits. This includes medicines in syringes, cups and basins. Unlabeled medications are unidentifiable. Dispensing an unlabeled medication inserts a huge risk in the drug administration process and can result in errors that are sometimes tragic.
Another high-risk area is IV Line and tubing, especially when multiple lines and high alert medications are involved. For example, a multisite study conducted by Schnock et al. found that 60% of infusions contained one or more errors and nearly two-thirds of those errors occurred because of improper drug identification when labeling protocols were violated.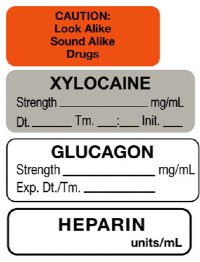 In addition, The Joint Commission and CMS compliance requirements mandate the use of labels to ensure safe medication dispensing.
Anesthesia drug labels help prevent confusion and misidentification. There are various formats including both blank and pre-printed versions. A blank anesthesia drug label allows medical professionals to fill in the strength of the drug as well as space to write the date, time, and initials of the person preparing the medication. The pre-printed option includes common medication strengths, the date the solution was prepared and the expiration date and time. Plus, for drug containers that look similar to one another or for medications that sound alike, Look-Alike Sound-Alike labels can prevent mixups.
Laboratory Labels
Specimens are often collected to determine a proper treatment regimen. But, transporting a vial of blood or tissue sample without a label makes the proper diagnosis impossible. That's why specimens must contain labels and include the:
Patient name
Patient medical record number, with check digit
Patient location
Collection date and time
Specimen type and/or source
Test required (noting any special handling required)
Ordering physician
This ensures the attending physicians receive the information necessary to determine the appropriate treatment plan and provide the patient with appropriate care.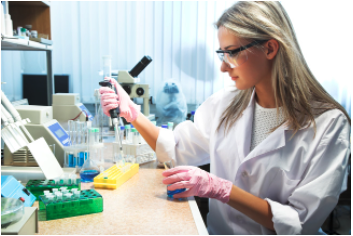 UAL supplies LIS labels in direct thermal and thermal transfer formats designed for laboratory information systems including Cerner, EPIC Sunquest/MISYS, Meditech, Softlab and McKesson.
Pharmacy Labels
Sixty-six percent of U.S adults take at least one prescription drug and there are 20,000 drugs approved by the FDA. Without a pharmacy label, it would be impossible to communicate the information necessary for the pharmacist to fill the prescription and for the patient to take it properly once it's prescribed. And when multiple prescriptions are involved, the potential challenges multiply.
Although the typical hospital pharmacy stocks only a fraction of those approved drugs, the pharmacy information system (PIS) is essential for supporting, distributing and managing those items. For example, the PIS helps clinical decision-making by alerting users about clinically important drug-drug interactions, drug allergies and drug doses, items nearing expiration and more.
Equally important, when the clinical staff generates a prescription, the pharmacy fills it using the unit dose system of medication distribution. Various studies have found that unit-dose systems are safer for the patient and more economical for the provider. What's more, the unit dosing process includes a number of key labeling guidelines which are outlined in this:
How To Label Medications Properly blog post.
In the final analysis, administering drugs would be impossible without labels. Pharmacy labels communicate information from the doctor and the pharmacy and help guide medical professionals and patients in using the medication correctly, including emphasizing important directions such as when to take the medication or precautions that need to be followed when using it.

Manufacturing, Warehousing & Distribution Labels
Manufacturers transform raw materials from suppliers into batches of goods that are often stored in a warehouse before being distributed to the end location. But, if there are issues at any stage, without the benefit of labels, it would disrupt the entire workflow.
Inventory Labels
Through loss, miscounting, theft, damage and more, inventory shrinkage occurs for many reasons. But, when you have hundreds of products, and many look alike, it increases the opportunity for products to get mixed up or misplaced. If count discrepancies occur, the next step is usually a write-off as lost inventory.
But, inventory labels help prevent this problem. Using big, visible and code-based labels make it easy for the warehouse staff to spot and pick the correct item. Plus, lean manufacturing systems rely on them to enhance inventory management and just-in-time fulfillment.
Product Labels
When was the last time you purchased a product that had no description, branding or information of any type?
Never!
A product label contains the information a consumer needs to make a purchase. From a design that grabs the customer's attention to important information about the product, it's an essential element necessary for any consumer product. Without a product label, manufacturers would see their sales drop to zero.

Quality Control Labels
Although a quality control label can't prevent a mishap in the manufacturing process, it can prevent accidentally shipping an inferior product when an error does occur. Quality control labels help you track inventory and determine if specifications were met for raw materials, finished goods and equipment.
Safety Labels
Safety labels warn employees about potential hazards, guide proper operation, and clearly track important inspection, calibration and maintenance information. Safety labels complement site-wide safe workplace initiatives.

Shipping Labels
Shipping labels guide the distribution of your product from point A to point B. The most sophisticated logistics organization in the world can't get your product where it needs to go without a shipping label.
Shipping labels are most commonly generated using laser or direct thermal print technologies. For higher volume applications, automatic applicators are often used to increase the speed and efficiency of the operation which requires a specific set of design elements.
United Ad Label's technical service team works with organizations to ensure shipping labels are designed to meet their specific needs. Labels identify products on the shelf and in your operation. It would be impossible to maintain a smooth operation without them.
Veterinary Labels
The ability to help animals is one of the key drivers for becoming a veterinarian or working at a veterinary practice. But, without these labels, the objective to help an animal could turn to harm and disrupt the entire operation.
Care and Instruction Labels
When a dog barks or a cat meows they are likely communicating something, but what? When animals are in your care, board and care labels communicate the information they can't and more. Veterinary practices use care instruction labels to detail all types of special care requirements ranging from senior pet conditions and pregnant animals to handling aggressive animals and feeding regimens.
Drug Syringe Labels and Tapes
Dogs have the tendency to eat things they shouldn't. Ingesting sticks, balls, rubber toys and more can result in a visit to the veterinarian, and in more serious cases, lead to surgery. Although a dog may be somewhat indiscriminate about what it chews on and eats, when it comes to medication dispensing, veterinarians take the opposite approach. Clearly marking dispensing devices using drug syringe labels and tapes are essential to preventing medication errors.
The FDA's Center for Veterinary Medicine (CVM) published the most common types of medication errors. They involve drug prescribing, preparation, dosing and administration, and data entry. Drug syringe labels and tapes are designed to easily and accurately identify medications and reduce the confusion and misidentification that can often occur.
Veterinary Prescription Labels
As noted previously, over half of Americans take at least one prescription medicine. But prescription usage isn't just reserved for humans. In a recent survey among dog and cat owners who had taken their pet to the veterinarian in the past 12 months, 78% of dog owners and 62% of cat owners purchased pet medications. Unfortunately, there's another parallel. As the number of medications dispensed increases, so do medication errors.
Veterinary prescription labels help the veterinary staff dispense medications safely and accurately. They also assist pet owners by communicating proper storage and caregiving once the pet is at home.

United Ad Label
United Ad Label stocks labels that are essential to any organization and help you pass the snap test. With over 4,500 stock items and extensive custom label capabilities including our easy-to-use Custom Label Designer app, we supply the labels you need to keep your business running smoothly.