One of the most influential ads ever produced appeared during the telecast of Super Bowl XVIII. It introduced the Apple Macintosh and served as the blast-off of a new brand of computer: the personal computer. It was 1984 and Apple wanted the Mac to symbolize the idea of empowerment. The Mac and the IBM PC empowered businesses in ways that were impossible for their predecessors, the minicomputer and mainframe computer.
Not only did the PC open the door for productivity gains across the business enterprise, it also led to the development of new products that further enhanced those gains. For example, even though the label as we know it today has been around since R. Stanton Avery invented it in the 30s, the PC led to the development of vital products that we may take for granted until we run out, including shipping and mailing labels, barcode labels, product labels and numerous other business labels that organizations use today. This ultimate guide to business labels provides tips on how you can use them to further improve processes and enhance productivity throughout your organization.
What Are Business Labels?
Simply put, business labels help you operate your business effectively. They enhance your brand, facilitate shipping and mailing, aid inventory management, promote organization, guide safe work practices and more.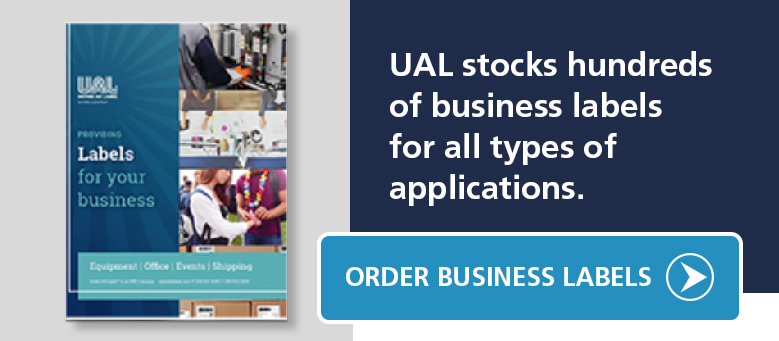 The Importance Of Business Labels
Business labels and business sticker labels enable essential functions in every organization. Without them, it would create problems ranging from a minor inconvenience to a major operational disruption. If you don't label a business file or other hard copy materials, it may impede your organization and impact office efficiency, but it doesn't stop your business from operating. On the other hand, without a product label, sales at a manufacturing company could well go to zero, because it's impossible to label or ship products effectively without them. Consider your operation and the number of different business labels you use. How would it impact your organization if you didn't have them?
Types Of Business Labels
The type of business labels an organization uses depends upon the, uh, business. But regardless of your business, there are common labeling applications that organizations in all industries use, including:
Printer Labels
Used for front office tasks ranging from mailing envelopes and packages, labeling informational materials, producing visitor badges and more, printer labels are manufactured in standard sizes and work effectively on laser, inkjet, thermal transfer, direct thermal printers and more.
Filing Labels and Supplies
Filing labels and supplies make it easy to track purchasing records, billing, invoicing, client information, staff records and more. They help you identify files by topic and organize by month and year.
Accounting and Collection Labels
Adding urgency to the payment and collection process can decrease the number of payables outstanding. Placed on an envelope or the invoice, accounting and collection labels stand out and help deliver faster payments.
In addition, there are other business label applications that are unique to each organization. For example,
Inventory Labels
From the components required to manufacture a finished product to the actual finished product before shipment to the end customer, manufacturing and distribution companies store hundreds of different items. Effectively tracking these items through the use of inventory labels helps avoid mix-ups and misplacements that can often lead to costly lost inventory write-offs.
Product Labels
Product labels contain the information a consumer needs to make a purchase. From a design that grabs the customer's attention to important information about the product, it's an essential element necessary for any consumer product.
Quality Control Labels
Ensuring that raw material and finished goods specifications are met significantly reduces the odds of accidentally shipping an inferior product. Quality control labels can't prevent a mishap in the manufacturing process, but they can prevent accidentally shipping an inferior product when an error does occur.
Safety Labels
Safety labels warn employees about potential hazards, guide proper operation, and clearly track important inspection, calibration and maintenance information.
Shipping Labels
Shipping labels guide the distribution of a package from its originating location to the end destination. The most sophisticated logistics organization in the world can't get your product where it needs to go without a shipping label.
Creating Custom Business Labels
For many business label applications, there are stock products designed specifically for those functions. In fact, UAL stocks over 4,500 labels designed for numerous business processes ranging from basic to complex. But stock items don't fit unique applications. For example, branded materials and packaging are exclusive to each organization. In addition, identifiers like numbering or barcoding typically conform to the series a company establishes that fits its internal guidelines. These, and other unique items, require a custom business label. United Ad Label created the Custom Label Designer for these applications. It allows you to create, proof and order custom labels online. Use this guide to develop a custom business label that best fits your needs.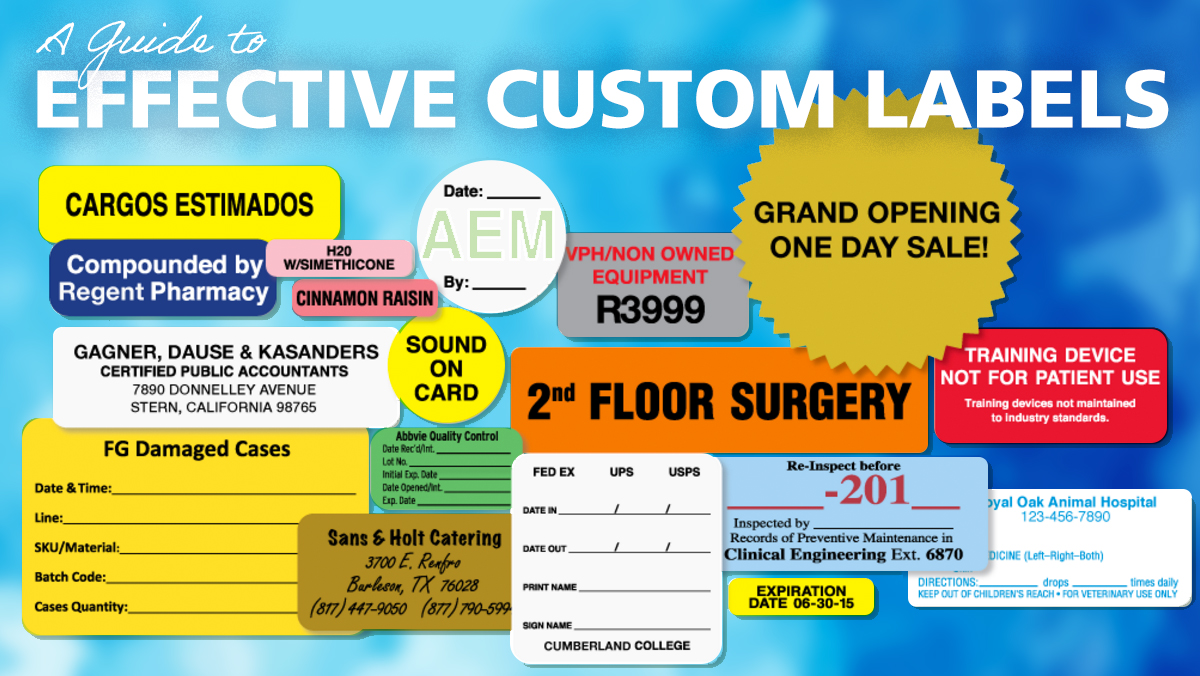 United Ad Label
United Ad Label provides stock and custom business labels and business label stickers for companies in organizations large and small. Our deep understanding of business processes helps us to develop products that meet the diverse needs of companies in different industries. We have over 4,500 products that are in stock and available for immediate shipment. Access our entire catalog of labels here.